9 février 2008
6
09
/

02
/

février
/

2008
01:28
Since Chinese New Year fell on a weekday, the celebrations in London were not till the weekend. I started off with having lunch with Elspeth at the Wong Kei in Waldorf Street in Chinatown. This is not the place to come to for fanciful eating but it was cheap and plentiful..as Elspeth said, like home cooked food. The tables are pretty basic but it is accessible and spacious inside. The only fly, the loo is not big enough for a power wheelchair unless you can have someone to mind the door which opens directly into the main restaurant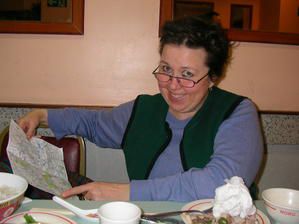 We had crab with ginger and spring onion, steamed chicken,
ma po tofu
and
choy sum
. It was quite ample.
Gerard Street was very crowded - not as crowded as when the parades are on as on sunday probably but very busy.
After lunch we set off dor the British Museum where I was to meet the others to participate in the Chinese new year events there. We waited for a long time, sophie and I, for the Monkey: Journey to the West exerpt and had a close brush with Damon Albarn himself.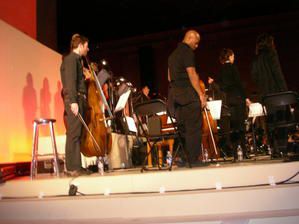 I am not sure if the British Museum has had ever that amount of people before. It was so crowded, there were queues round the buiilding. Tickets were needed for the spectacle even though it was a free event. I am not sure I like the intrepretation of the story but then, I've grown up wth Monkey stories.