Xiaolu Guo
A Concise Chinese-English Dictionary for Lovers
A love story - cultural differences, misunderstandings and yes, I see what she is saying.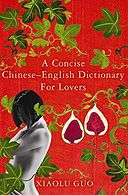 Su Tong
Binu and the Great Wall
Binu And The Great Wall
is a wonderful myth retold in the words of Su Tong, the author of 'Rice'. The myth of Binu and how her tears washed away the Great Wall have been passed down through the ages. It is a tale of hardship, brutality and undying love. Su Tong's version of the myth, brings to the reader the harshness and brutality that led to the constuction of the wall and the terrible effects it had on the common people.